Student First Aid is a FREE program designed to incorporate first aid into secondary school curriculum on a large scale while overcoming the time and cost barriers which schools are often faced.
This is done by replacing the conventional classroom-based first aid course with an e-learning one. This less expensive and more flexible option allows students to learn first aid from home or from a computer lab while allowing them to grasp concepts at their own pace.
Each school can add a hands-on component, in which the student's cognitive knowledge is evaluated on a manikin by a trained skill evaluator.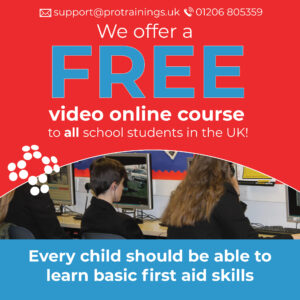 Educators are provided the tools to monitor the online first aid course as an assignment. Teachers and administrators can view completion and test scores and even order cards all from a single online dashboard.
Training of skill evaluators, training on the system, and follow-up service are all included so that implementation is fast and easy. This program is completely free. The only possible expense results from the addition of the hands-on component. More details are available in the Blended Course Implementation section.
STUDENT FIRST AID CURRICULUM INCLUDES:
Introduction to First Aid
Prevention of accidents and Keeping safe in an emergency
Looking after someone in need
Unconscious but breathing
Adult and older children CPR
Hands-only CPR
Choking
Heart Attack and Stroke
Serious Bleeding and Shock
Broken bones and spinal injury
Allergic Reaction
Asthma and Breathing Problems
Treating Pets
Summary and learning more
Testing
All ProTrainings courses confirm comprehension in two ways. The first is through the pre-test process. Students are asked pre-test questions after each group of videos to confirm comprehension of the major points within those videos.
After the training section, students are asked to take a final test. Students must score an 80% or better to pass. They can retest if they fail, and each test is recorded and viewable through the teacher dashboard. The test is comprised of multiple-choice, scenario-based questions.