The LifePac CR2 is a little different to other AED units, having advanced features in addition to those of a standard unit. It is also available in fully or semi-automatic models. The CR2 is available in different versions and the basic versions connect to WiFi, with the advanced versions having 3G connectivity. What this means is that the data and maintenance of the units can be transmitted to a central point, allowing notifications that pads or batteries need to be changed and notification when the AED has been used. The data from the use of the AED can also be transmitted to a central point or to the Doctors dealing with the patient when they arrive at the hospital.
Where you are managing multiple AED units, the CR2 makes maintenance much easier, ensuring that all units are fully functioning and ready to use again.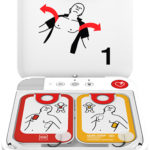 The CR2 is the only AED that allows chest compressions during ECG rhythm analysis, thereby reducing pauses between CPR and defibrillation. It also detects background noise and adjusts volume accordingly for clear instruction. Being bilingual, you can simply toggle between two pre-set languages when using the device.
The CR2 has a layered design with easy to follow bold graphics so it is ideal for both trained and untrained AED users.
When using the CR2, it is easy to peel off the pads from the base for faster placement. It has clear voice commands and the metronome and CPR coaching sets an effective pace and audibly guides users. When using the CR2 on children, it has a child mode which delivers appropriately lower energy levels without having to change the electrodes.
The CR2 produces up to 360J for more effective shocks when they are needed. Finally, the CR2 is IP55 rated and comes with an 8-year warranty
If you would like any information on this or any AED please visit the Fist Aid Online AED website or for AED Training and equipment call ProTrainings on 01206 805359.