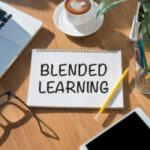 At ProTrainings we offer many different types of delivery methods for courses and in the next few blog posts, we will look in more detail about what these are.  The first one we will look at is Blended Training.
Blended training with ProTrainings is where you complete part of the course using our video online training then attended a face to face course at your workplace or one of our approved nationwide centres to complete the practical part.
Learning in a blended format allows you more flexibility to learn at your pace and then to attend a class that is more practically based as the theory has been learned online using our video online training platform.  Depending on the qualification, there are set times that you have to follow regarding completing the online part and the classroom part and we can help you with this when you enquire.
We have found over the years a massive swing towards blended training and we have expanded to give a blended option for as many courses as possible.
The advantages of ProTrainings blended training include:
Reduce the classroom time
Learn at your pace for the online part
Prepare fully for your practical part and know any shortfalls in knowledge
Start and stop the online part when you want and return to where you left off
Review any videos, text or documents when you want
Many subjects have student manuals in different languages
All videos have subtitles to help with learning
Full support at all stages of your training
A nationwide network of approved and monitored instructors
Safer with the Coronavirus risks as there is less time in the classroom
Less travel time and costs to travel to a training course
Fully accredited training
ProTrainings were the first to offer a full range of blended training courses and we have been offering blended courses since 2008.
Blended subjects include:
And loads of other subjects
If you would like to learn more about how a blended solution to your training would work contact us on 01206 805359, email support@protrainings.uk or use our online chat facility.