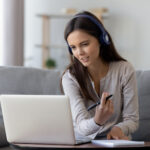 ProTrainings offer all types of course delivery and the next one we will look at is video online training. We only offer video online training rather than a PowerPoint-based system as it is more engaging and gets more information across to the student and it is a better resource to review the course contents.
Online training offers training to suit your timetable and schedule making it more flexible than a traditional classroom course. Not all qualifications are allowed by using online training but we offer over 350 subjects and more on the way.  Online courses are in some subjects available as a blended course which saves you time in the classroom.
Our video online training uses short videos and knowledge review questions to confirm understanding then when you are ready, there s a final test which when passed, you will be able to download your completion certificate, certified CPD statement and evidence-based learning statement.
To manage staff, we offer comprehensive dashboards where you can manage your employees and even divide between branches or departments.  If you have a LMS system, our online courses are all SCORM compliant.
We offer a validation feature so it is easy to validate a certificate.  We are soon adding a QR code to make this even easier.
The advantages of video online training include:
Videos easy to follow, pause and watch again
Able to stop and restart where you left off
Fully accredited training
Digital downloads
Subtitles on all videos
The course is like being one on one with the instructor following the course at your pace
Descriptive text to support the videos
Student manual on many courses in different languages
Digital download area for supporting documents and links to help with your study
Many courses offer a practical or virtual additional course if you want it if a blended course
Company management dashboards
SCORM compliant
Full student support
For more information on our courses, contact us by phone 01206 805359, email support@protrainings.uk or use our online chat.