The Samaritan PAD 360P AED is a fully automatic defibrillator designed to analyse heart rhythm and if needed automatically deliver a life-saving electrical shock. It looks very similar to the Samaritan PAD 350P but the 360P is automatic rather than semi-automatic.  The unit detects the heart rhythm to see whether or not a shock is advised. If so, it gives warnings and delivers the shock automatically, without the need to push the shock button.
The 360P also includes a motion detection feature to warn users of excessive or unexpected patient movement. Consequently, it is more safe for the First Aiders.
The 360P is lighter and smaller than other defibrillators. It resists shock and vibration and carries an IP56 rating. This is the industry's highest rating against dust and water ingress. It also carries an 8-year warranty.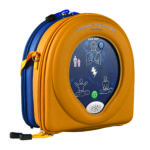 The 360P also uses HeartSine's practical Pad-Pak the same as other HeartSine AED units. It incorporates the battery and electrodes in a quick replace single-use cartridge. Therefore there is only one expiration date to monitor and only one item to replace after use.
The 360P is suitable for use on adults and children. For children younger than 8 years or weighing less than 25 kg (55 lbs), a Pediatric-Pak™ is available. The main difference with this is the size of the pads and the voltage levels.
So, in conclusion, the 360P is almost exactly the same as the other HeartSine AED units. The shock delivers automatically, setting it apart from other models.
If you would like any information on this or any AED please visit the First Aid Online AED website or for AED Training and equipment call ProTrainings on 01206 805359.